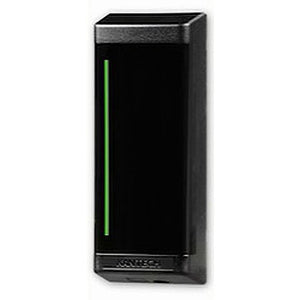 Kantech | KT-MUL-MT ioSmart Multi-Technology Smartcard Reader, Mullion
Regular price
$0.00
$0.00
Unit price
per
Part # 
KT-MUL-MT
Description
Cost-Effectively Transition to Advanced Technology
Kantech's ioSmart Smart Card Readers give customers an easy and powerful way to move from proximity cards to advanced smart card technology, whether they are using the popular Kantech ioProx solution or another proximity system.
Multi-technology readers provide the option to read both prox and smart cards allowing the customers to migrate at their pace.
High Level of Security
ioSmart readers provide end-to-end AES 128-bit encryption between the ioSmart card and ioSmart reader when connected to KT-400 and KT-1 controller over RS-485 and aforementioned controllers to EntraPass software over IP.
Versatile, Time-Saving Design
Unlike other solutions on the market that use restrictive, proprietary technology, ioSmart's open technology offers versatility. Based on MIFARE Plus smart technology for readers, and MIFARE Plus EV1 for credentials, ioSmart supports many different car formats, including HID® Prox. The reader can also be used with any access controller using Wiegand protocol.
To save installation time and money, ioSmart Smart Card Readers can be wired directly to standard door contacts and T.Rex devices rather than running the wires all the way to a controller.
ioSmart Smart Card Readers are available in single-gang or mullion models and can be installed in indoor or outdoor applications.
End-to-end encryption for added security
Cost-effective solution to transition from prox to advanced smart technology
Open technology provides versatility
Capacitive touch keypad available
Bluetooth-ready for future proofing
Unique design allows timesaving wiring to standard door contacts and T.Rex devices
Mullion and single-gang models
Available on KT-1 and newer KT-400 controllers
Tyco Cloud cloud-enabled product
---
Share this Product
---