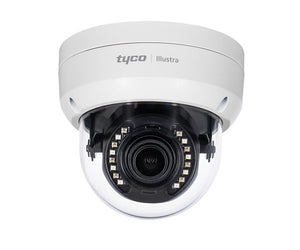 Illustra Pro Gen4 4MP MiniDome, 2.7-13.5mm, Indoor/Outdoor, IP67, IK10, TDN w/IR, TWDR | Part # IPS04-D12-OI04
Regular price
$1,500.00
$0.00
Unit price
per
Part # IPS04-D12-OI04
Description 
Illustra Pro IP cameras have been designed to be resilient against cyber-threats. This solution includes "secure boot" which ensures the
camera will not start if software has been tampered with in any way. Additional safeguard controls include an enhanced security mode
which forces the use of complex, non-default passwords and encrypted communications. Our products are gated, analyzed, tested
and required to meet or exceed the rigorous standards of the Johnson Controls Cyber Solutions Product Security Program for every
consecutive release. This holistic approach is aimed at providing peace of mind to our customers. Our security mindset begins at initial
design concept and is supported through deployment, including a rapid incident response to meet the comprehensive and evolving
cybersecurity environments.
---
Share this Product
---